본문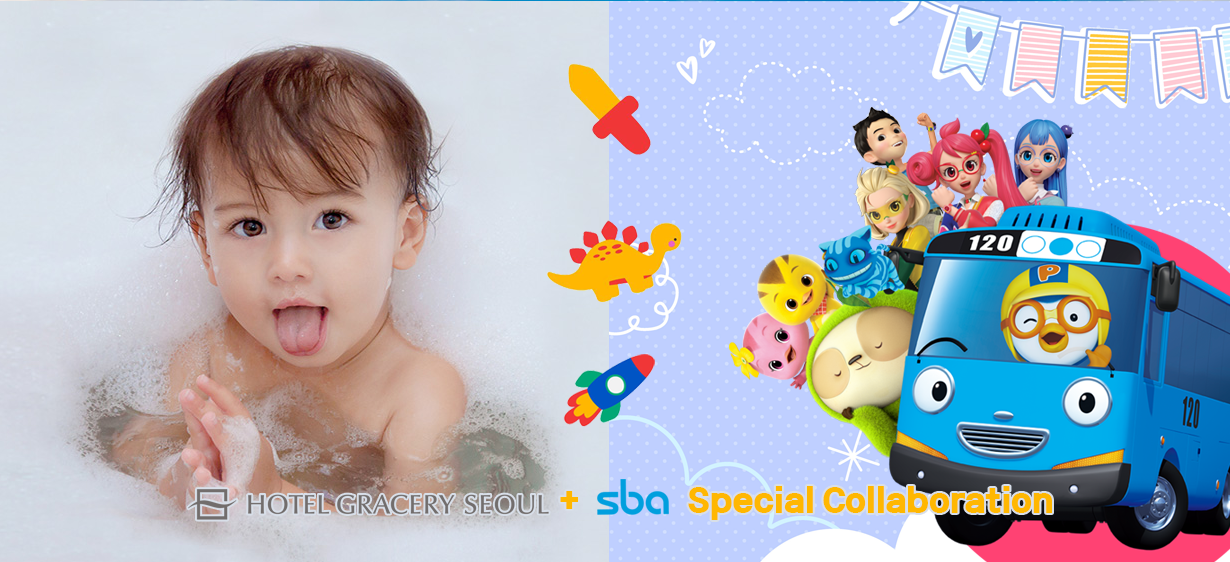 Hotel Gracery Seoul X SBA Seoul Animation Center Kids Package
2023-05-02 ~ 2024-02-29
Package Details 
Hotel Gracery Seoul x SBA Seoul Animation Center Kids Package
SBA Seoul Animation Center Kids Package is available only for guests who make reservations on the official website.
Admission tickets at the Seoul Animation Center are provided where you can spend a special time with the family.
There is a cultural complex located on the first floor so visitors can read about 40,000 books from 90s cartoons to the latest animations in Korea for free.
Also, there are various kids experience programs. They have prepared popular animation characters
such as Pororo, Tayo, Super Wings, Turning Mecard, Sophie Ruby, Sloth Nail, Wonderland Alice to watch.
You also can experience digital drawing, stop motion animation, motion recognition flight games, and VR games.
We also provide bubble bath bombs and kid's bath toys that are guaranteed for safe use.
The space-divided bathroom is one of the characteristics of Hotel Gracery Seoul.
Experience a relaxing time at Hotel Gracery Seoul with this kids package, where you rest your tired body and mind from your busy daily life in the bathtub.
◆ Period      2023.05.02~2024.02.29
◆ Price         Detailed inquiry by room/ length of stay 
◆ Privilege
 - SBA Animation Center admission tickets. (one adult*1ea & one kid*1ea)
 - Hypoallergenic BUBBLEDAY Bath Bomb provided upon check-in.
 - One ILLUWA LED bath toy provided upon check-in. (preschool child aged 6 years and younger)
 - Tickets for extra people can be purchased at a discounted price at the center.
◆ Details of privilege 
 •SBA Seoul Animation Center
  - Location: 48, Sogong-ro, Jung-gu, Seoul
  - Use time: Tuesday to Sunday 10:00-18:00 (Annie picnic experience closes at 15:00)
  - SBA Web site: http://www.ani.seoul.kr/
• BUBBLEDAY Bath Bomb
 - It is mild bath bomb that does not irritate the skin mucous membrane with a naturally derived surfactant obtained from coconut oil.
   It has been proved as safe with the skin irritation of 0.00.
   It is made of safe ingredients presented by EWG, a non-profit environmental organization in the United States.
   It can be safely used as a bath preparation with good ingredients that can be used from 12 months of age.
• ILLUWA LED Bath Toy
 - This is a dinosaur character bath play toy that children love.
   As a product that has received KC infant safety certification, children can use it with confidence.
   Made with an average of 24g material, it is light and has a round shape without sharp parts, making it a perfect size for a child's hand.
   It's an LED toy that doesn't get hot, so use it without worry.

◆Terms of Use
•The check-in time is from 3 pm on your day of arrival, and the check-out time is until 12 pm on your day of departure.
•
The above amount includes tax and service charges, and may vary depending on the date of stay.
•
This promotion is a package product that includes the above-mentioned privileges in addition to the room, and the included product cannot be canceled, refunded, or changed.
•This is a non-parking product (KRW 10,000 per night is charged for parking.)
◆Cancellation Policy
•
Cancellation and change are possible before 18:00 two days before check-in.
•
In case of cancellation after 18:00 two days prior to check-in or no-show, the rate of a one night's stay will be charged as a penalty charge.
◆Save The Earth
•
Time: From January 1, 2022, toothbrushes, toothpaste, and razors are not provided as standards.
•
If you have not prepared in advance and wish to purchase, please contact the front desk.
•
Toothbrush set with toothpaste – KRW 1,000 / Razor set – KRW 1,000