Hotel Gracery Seoul 5th Anniversary Special Event
본문
Hotel Gracery Seoul 5th Anniversary Special Event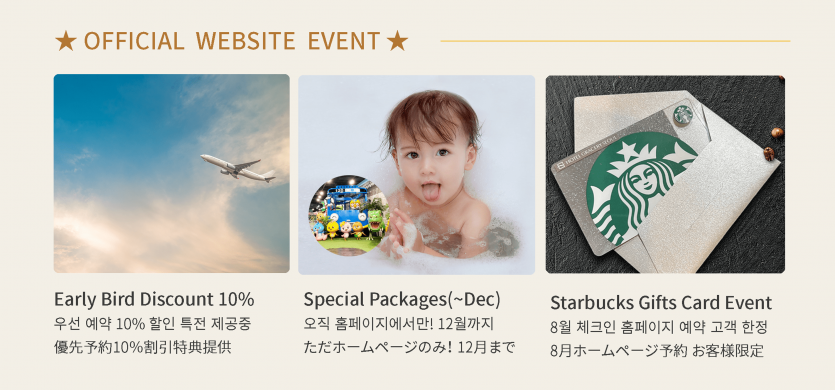 #1. 28 days before Early Bird Discount
Early Bird discount promotion has been opened, which can only be found on Hotel Gracery Seoul offical website so guests can save 10% of room rates.
You can stay our hotel at a more reasonable price with this special discount promotion.
Discounts are automatically applied for reservations made 28 days before. Make a reservation in advance according to your vacation and get a discount chance.
#2. Hotel Gracery Seoul & SBA Seoul Animation Center Kids Package
Admission tickets at the Seoul Animation Center are provided where you can spend a special time with the family.
There is a cultural complex located on the first floor so visitors can read about 40,000 books from 90s cartoons to the latest animations in Korea for free.
Also, there are various kids experience programs. They have prepared popular animation characters
such as Pororo, Tayo, Super Wings, Turning Mecard, Sophie Ruby, Sloth Nail, Wonderland Alice to watch.
You also can experience digital drawing, stop motion animation, motion recognition flight games, and VR games.
We also provide bubble bath bombs and kid's bath toys that are guaranteed for safe use.
The space-divided bathroom is one of the characteristics of Hotel Gracery Seoul.
Experience a relaxing time at Hotel Gracery Seoul with this kids package, where you rest your tired body and mind from your busy daily life in the bathtub.
◆ Period: 2023.05.02~2023.08.31
◆ Price: Detailed inquiry by room/ length of stay
◆ Privilege
 - SBA Animation Center admission tickets. (one adult*1ea & one kid*1ea)
 - Hypoallergenic BUBBLEDAY Bath Bomb provided upon check-in.
 - One ILLUWA LED bath toy provided upon check-in. (preschool child aged 6 years and younger)
 - Tickets for extra people can be purchased at a discounted price at the center.
#3. Stay in August and gets Starbucks gift card
We are going to offer Starbucks gift cards to all guests who have reservations staying in August via our official website.
Make a reservation right now on our official website and get a Starbucks coupon! (one gift card per one room)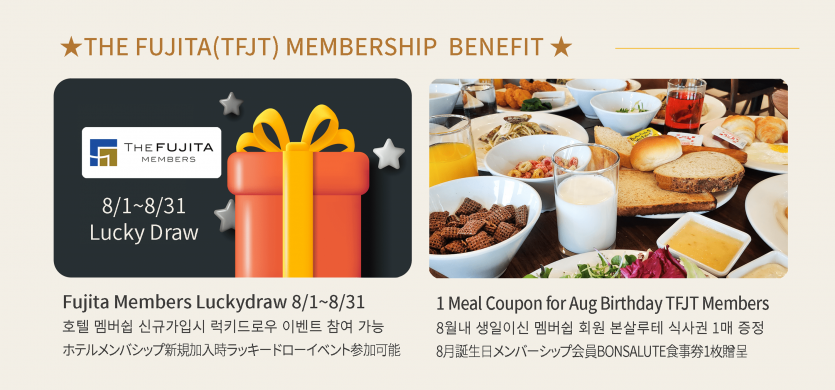 #1. Dont' miss out on the lucky draw event
Sign up for THE FUJITA Membership, which is available in about 52 branches including Japan, Taiwan, etc.
We will give a chance to participate in a lucky draw event with various prizes.
1st winner: HGS room voucher
2nd winner: Bonsalute meal ticket *2ea
3rd winner: Starbucks gift card *2ea
4th winner: HGS Tumbler
5th winner: BUBBLEDAY Bath bomb
◆ The event might be early closing when the product runs out. 
#2. Happy Birthday with Hotel Gracery Seoul
We are going to offer a meal ticket at Bonsalute as a gift for guests whose birthday is in August.
Enjoy a top-quality buffet with the whole window of Seoul's skyline.
This event is exclusively available to THE FUJITA members.
** Benefits of THE FUJITA Membership
1. Early check-in a hour early
2. Cosmetic kits or transport pass (T-Money card)
3. Discounts on Bonsalute breakfast buffet